A Million Days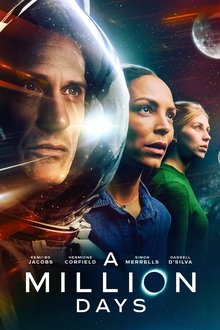 A Million Days is a 2023 Science Fiction Thriller film released on 25th August; Mitch Jenkins directed the film which stars Hermione Corfield, Darrell D'Silva, and Simon Merrells.
The year is 2041 and the next step in the future of humankind is imminent. After decades of training and research, the mission to create the first lunar colony is about to launch with Anderson as lead astronaut. Jay, an AI purpose built for the mission, has simulated every possible outcome for the expedition. Tensions arise when the chilling motives of Jay become apparent, sowing the seeds of distrust between Anderson, and the group that had gathered to quietly celebrate the launch. As the night descends into chaos, the group's faith in one another and their mission begins to crack, with the knowledge that the decisions they make before sunrise, will change humanity forever...
If you started watching this film now, it would finish at approximately 7:46pm.
Watch A Million Days (2023) online
Updated: 22nd Nov 2023, 1:26pm
Sorry, it doesn't look like there are any streaming options in your region currently, but you might find it on Amazon to rent or buy.
A Million Days

Stats
Cast Age
Estimated Ages At Time of Filming
25%

20-29
50%

50-59
25%

Unknown
Cast Genders
Who Is Most Represented
50%

Female
50%

Male
Good/Bad Characters
More Heroes of Villains?
100%

Unknown
Character Types
What Characters Feature
100%

Unknown
When was A Million Days released?
A Million Days was released on Friday August 25th, 2023.