Aftermath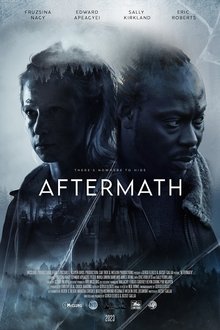 Aftermath is a 2023 Mystery Sci-Fi film released on 3rd February; Gergö Elekes and József Gallai directed the film which stars Eric Roberts, Sally Kirkland, and James Duval.
After waking up in the forest with no memory, a young woman is targeted my mysterious strangers with a motive that's unclear.
If you started watching this film now, it would finish at approximately 7:03pm.
Watch Aftermath (2023) online
Updated: 19th Nov 2023, 3:15am
Sorry, it doesn't look like there are any streaming options in your region currently, but you might find it on Amazon to rent or buy.
Production Companies
Aftermath

Stats
Cast Age
Estimated Ages At Time of Filming
20%

50-59
20%

60-69
20%

80-89
40%

Unknown
Cast Genders
Who Is Most Represented
40%

Female
60%

Male
Good/Bad Characters
More Heroes of Villains?
100%

Unknown
Character Types
What Characters Feature
100%

Unknown
When was Aftermath released?
Aftermath was released on Friday February 3rd, 2023.