All Quiet on the Western Front
Also Known As: Im Westen nichts Neues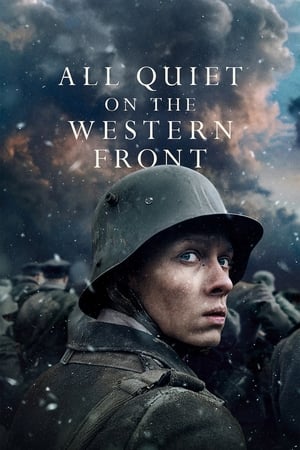 Keyboard Shortcuts
Watching This Now
Just Finished Watching This
Add This To

My Watch List
Login
or
Register
to start tracking how many of these films you've seen!
Paul Baumer and his friends Albert and Muller, egged on by romantic dreams of heroism, voluntarily enlist in the German army. Full of excitement and patriotic fervour, the boys enthusiastically march into a war they believe in. But once on the Western Front, they discover the soul-destroying horror of World War I.
If you started watching this film now, it would finish at approximately 2:00pm.
Cast
Most Often Described As
9/10
75/100
91%
7.9/10
Where to Watch
Updated: 25th Nov 2022, 11:13pm
Sorry, it doesn't look like this film has any streaming options in your region currently.
Advisories
Note: The advisories below highlight content or themes that could cause discomfort for viewers. They are blurred as they may contain spoilers.
Click here to unblur them
.
Alcohol Use
Graphic Injury
Graphic Violence
Self Harm
Suicide
Tobacco Use

Cast Age
Estimated Ages At Time of Filming
14%

20-29
18%

30-39
29%

40-49
11%

50-59
4%

60-69
4%

70-79
21%

Unknown
Cast Genders
Who Is Most Represented
100%

Male
Good/Bad Characters
More Heroes of Villains?
4%

Bad
4%

Good
93%

Unknown
Character Types
What Characters Feature
4%

Army General
4%

Politician
18%

Soldier
75%

Unknown