Scorsese's Goodfellas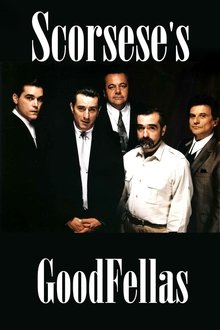 Scorsese's Goodfellas is a 2015 Documentary film released on 5th May; the film which stars Leonardo DiCaprio, Robert De Niro, and Harvey Keitel.
7.6
In this produced by Brett Ratner new retrospective documentary we hear from cast members and additional participants include Harvey Keitel, Leonardo DiCaprio and Terence Winter, creator of Boardwalk Empire and screenwriter of The Wolf of Wall Street. The program gives us thoughts about Scorsese's approach to the material, casting, characters, and performances, costumes and period details, photography, music, and retrospective thoughts about the film. It is filled with memorable stories and observations from a wide array of commentators.
If you started watching this film now, it would finish at approximately 3:30am.
Watch Scorsese's Goodfellas (2015) online
Updated: 24th Nov 2023, 10:14am
Sorry, it doesn't look like there are any streaming options in your region currently, but you might find it on Amazon to rent or buy.
Scorsese's Goodfellas

Stats
Cast Age
Estimated Ages At Time of Filming
17%

40-49
33%

60-69
50%

70-79
Cast Genders
Who Is Most Represented
17%

Female
83%

Male
Good/Bad Characters
More Heroes of Villains?
100%

Unknown
Character Types
What Characters Feature
100%

Unknown
Scorsese's Goodfellas

FAQ
When was Scorsese's Goodfellas released?
Scorsese's Goodfellas was released on Tuesday May 5th, 2015.