The Ballad of Little Jo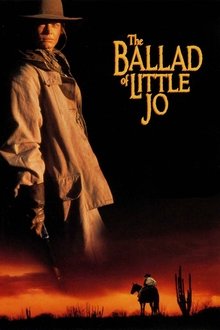 The Ballad of Little Jo is a 1993 Romantic Drama film released on 20th August; Maggie Greenwald directed the film which stars Ian McKellen, Heather Graham, and Tom Bower.
76%
6.7
Based on a true story, this is the tale of Josephine Monaghan, a young woman of the mid-19th century who is thrown out of her parents' home after being seduced by the family's portrait photographer and giving birth to an illegitimate child. Josephine quickly learns that young, female, pretty, and alone are a bad combination for life in the wild west. In her desperation to survive, Josephine disguises herself as "Jo", a young man, and struggles to make a life for herself in a dingy frontier mining town. Can "Little Jo" live and love without revealing his/her secret?
If you started watching this film now, it would finish at approximately 3:36am.
Watch The Ballad of Little Jo (1993) online
Updated: 16th Nov 2023, 11:43am
Sorry, it doesn't look like there are any streaming options in your region currently, but you might find it on Amazon to rent or buy.
Production Companies
The Ballad of Little Jo

Stats
Cast Age
Estimated Ages At Time of Filming
2%

20-29
7%

30-39
7%

40-49
11%

50-59
73%

Unknown
Cast Genders
Who Is Most Represented
36%

Female
64%

Male
Good/Bad Characters
More Heroes of Villains?
100%

Unknown
Character Types
What Characters Feature
100%

Unknown
The Ballad of Little Jo

FAQ
When was The Ballad of Little Jo released?
The Ballad of Little Jo was released on Friday August 20th, 1993.