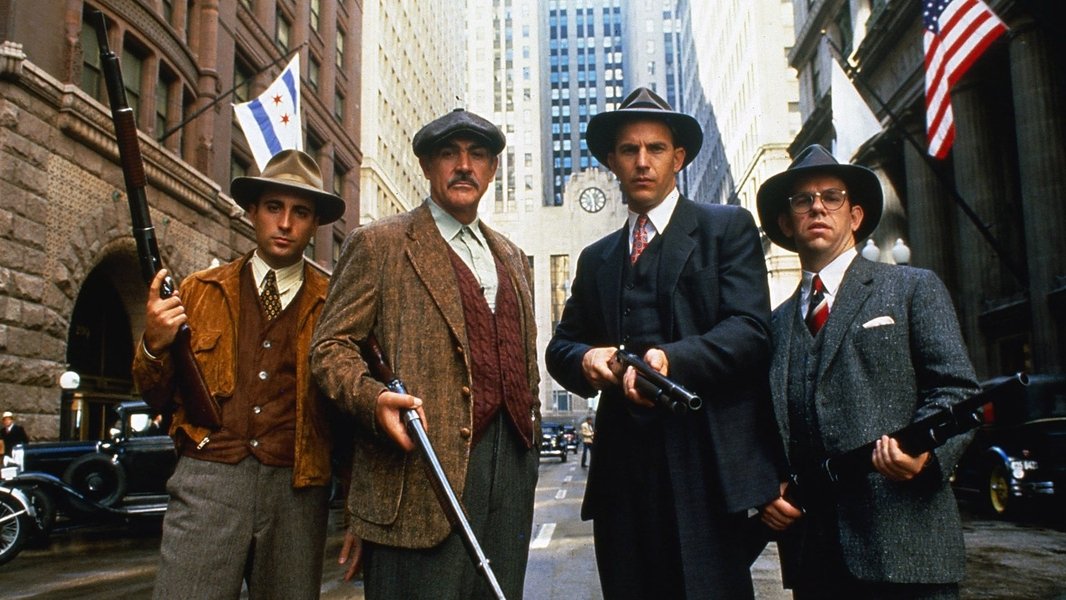 The Untouchables
The Untouchables is a 1987 Crime Drama film released on 3rd June; Brian De Palma directed the film which stars Sean Connery, Robert De Niro, and Kevin Costner. The film was a box office success, earning a profit of $51,270,454 on its budget.
79
83%
7.9
Young Treasury Agent Elliot Ness arrives in Chicago and is determined to take down Al Capone, but it's not going to be easy because Capone has the police in his pocket. Ness meets Jimmy Malone, a veteran patrolman and probably the most honorable one on the force. He asks Malone to help him get Capone, but Malone warns him that if he goes after Capone, he is going to war.
If you started watching this film now, it would finish at approximately 1:21pm.
Production Companies
The Untouchables

Stats
Cast Age
Estimated Ages At Time of Filming
2%

13-19
6%

20-29
7%

30-39
11%

40-49
9%

50-59
4%

60-69
61%

Unknown
Cast Genders
Who Is Most Represented
7%

Female
93%

Male
Good/Bad Characters
More Heroes of Villains?
2%

Good
2%

Bad
96%

Unknown
Character Types
What Characters Feature
2%

Federal Agent
2%

Mobster
96%

Unknown
When was The Untouchables released?
The Untouchables was released on Wednesday June 3rd, 1987.
How much did The Untouchables cost to make?
The budget was $25,000,000.
How much money did The Untouchables make?
The worldwide revenue was $76,270,454.
Is The Untouchables on Netflix?
No, The Untouchables is not currently available on Netflix in the United States
Is The Untouchables on Amazon Prime?
Yes, The Untouchables is currently available on Amazon Prime in the United States
Is The Untouchables on Disney Plus?
No, The Untouchables is not currently available on Disney+ in the United States